Leicester Conveyancing Solicitors
Reasons to choose Wilson Browne
Direct access to your legal team
Transparent costs
No hidden extras
No misleading headline prices
Buying a home or a house is often an exciting moment in most people's lives. Our Leicester conveyancing solicitors are here to keep it that way.
*Excludes disbursements and other 3rd party costs
If you're in Leicester or the surrounding areas of Leicestershire then there is a good chance you already know of our residential conveyancers. Our offices are based in the heart of Leicester just a short distance from a number of major landmarks including the Leicester Cathedral and the Richard III visitors centre.
The first step you can take when buying or selling a home or house is to contact our conveyancing enquiry line on 0800 044 8105. From here our team can work on any and all legal matters while you can focus on everything else – including your new colour scheme and furniture.
At Wilson Browne, we are recognised members of the Conveyancing Quality Scheme: a nationally recognised standard for firms and practices operating in residential conveyancing. The scheme gives you a guarantee of standards recognised by insurers, lenders, regulators and of course residential home-sellers and buyers. The Help To Buy scheme also trust and recommend us.
Local Conveyancing team in Leicester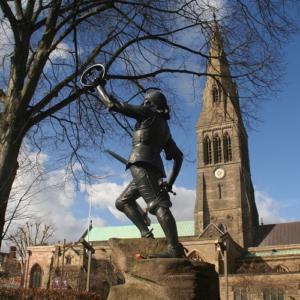 Our Leicester residential conveyancing team are part of a vast pool of resources available to make sure your move is handled locally. They also have the backing of a much larger team located across the UK. We'll be here to guide you through the whole process, offering easy to understand advice and support that will help you in to your new house or home as smoothly and as quickly as possible. Any queries will be raised throughout the process to give you the full picture when buying your new home.
Due to the quick turnaround from our telephone conversation to receiving the quote, I feel you are the perfect firm to instruct and carry out my conveyancing.  I am also pleased to have received a quote detailing all costs with no hidden charges. Thank you once more for your help with this matter! – MH & GS
No unexpected charge or nasty surprises: the overall final cost is what matters not the headline price.
We're happy to say that when asked if the price they paid was what they expected 96% said yes.
Nearly 75% of our clients were either recommended to us or are returning clients.
At Wilson Browne, we believe in being as open and transparent as possible when it comes to costs. We won't give an artificially low headline cost that grows out of proportion as extras get added.
Clear pricing that includes many things others charge extra. For when an 'all inclusive' price isn't as 'all inclusive' as it seems.
We received excellent service from Russell. He was efficient, friendly and always available to answer our questions. He was a good negotiator and always acted on our behalf to the full, ensuring that we received the very best advice and outcome.
If you're looking to buy we can take care of any necessary legal paperwork with regard to your new mortgage as well as complete your stamp duty submission – which some other conveyancers charge over £200 plus VAT for.
Thank you! We are very satisfied with the progress of our sale.
When it comes to selling a home, some conveyancers charge for discharging your existing mortgage – something we are happy to do (for one existing mortgage) within our quoted fee.
We could not fault your service and look forward to you doing the conveyancing for us on our next property.
So if you're looking for buy or sell, trade up or down or have a chain or a cash buyer, our conveyancing team in Leicester are on hand to guide you through the full process and make sure you are fully aware and updated through all stages. Once everything is in place we'll set you on your way to handing over your keys and moving on to other plans.
Call our dedicated conveyancing hotline on 0800 044 8105 or email us at rescon@wilsonbrowne.co.uk and we'll get you on your way.
More on what our clients say
We have been very happy with your services.  We will be using you in the future and suggesting you to other people for sure.  Thanks for everything!

Russell provided an excellent service.  It was much appreciated.

Thank you very much for the friendly service you have provided to me. I felt personally cared for and I really appreciate your professional approach to handle my case. I would be more then happy to recommend Wilson Browne to my friends and family.

Efficient, polite and always helpful. I would have no hesitation in recommending your services.