Wilson Browne are committed to Corporate Social Responsibility…
…acting as a responsible employer within the community and ensuring that we put something back.
Doing Our Bit For The Environment
There's no 'green washing' here:
We can't pretend we've got solar panels on the roof of every office; wind turbines in the car parks as part of a micro-generation strategy; or fancy water purification systems storing rain water and purifying it for use.
What we can say, is that where possible we have tried (and continue to try) to minimise our carbon footprint and the impact we have on the environment. The firm recently made the switch to LED lighting which has a positive environmental impact as well as being cost efficient.
Added to that, our electricity supplier claims in their most recent audit to have renewables account for 96.3% of its supply versus a UK average of 29.04%.
Through our recently introduced salary sacrifice car scheme, a number of employees have made the switch to EVs (electric vehicles) which helps to further reduce the carbon footprint.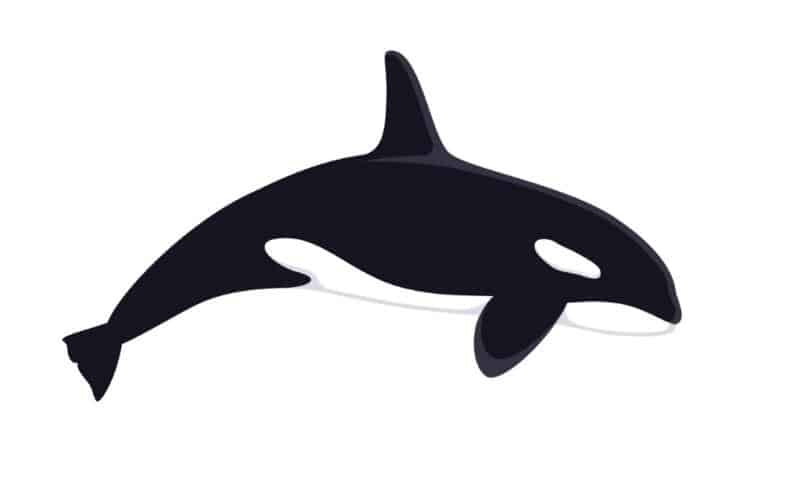 And finally, it's the small things such as recycling waste, printer toner cartridges and paper that all add up and in this case, it all add up to more than the weight of a mighty Orca
Disability Confident Committed Employer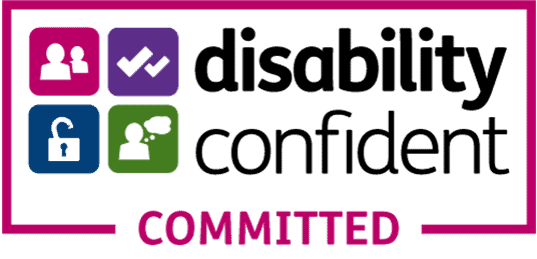 Wilson Browne is thrilled to have retained our Disability Confident Scheme for another year.
As a Disability Confident Committed Employer we have committed to:
ensure our recruitment process is inclusive and accessible
communicating and promoting vacancies
offering an interview to disabled people who meet the minimum criteria for the job
anticipating and providing reasonable adjustments as required
supporting any existing employee who acquires a disability or long term health condition, enabling them to stay in work
at least one activity that will make a difference for disabled people
Supporting The Armed Forces - Armed Forces Covenant Employer Recognition Scheme
Award From Armed Forces Covenant Employer Recognition Scheme
We are pleased to confirm that Wilson Browne Solicitors has received the bronze award from the Armed Forces Covenant Employer Recognition Scheme (ERS).
The ERS recognises commitment and support from UK employers for defence personnel and recognises employers who support those who serve or have served in the Armed Forces, and their families.
Click the image for the full document.
Charity
Happy Easter from Wilson Browne Solicitors and Miss Northamptonshire Galaxy
Wilson Browne Solicitors joined forces with Saffron Corcoran, the reigning Miss Northamptonshire Galaxy, to bring some Easter goodies to the patients, parents and staff on the children's ward at Northampton General Hospital.
Saffron visited Wilson Browne Solicitors and was presented with the donation by Chloe Lake, a paralegal in our Residential Conveyancing team.
Over a period of two months, Saffron worked to collect nearly 100 Easter Eggs, as well as toys and books. Alongside this, Wilson Browne Solicitors kindly donated a selection of new toys for the activity room, to ensure that anyone staying has an array of options to keep their spirits up.
On Sunday 10th April, Saffron (along with Wilson Bear – can you spot him?!) visited Northampton General Hospital to make the donation, meeting Kaylee and Rachel of the children's ward, who were thrilled with the collection.
Saffron said:
It couldn't be more fitting that I am donating this week to Northampton General Hospital…the staff are incredible and deserve all the praise. We are so lucky to have the NHS and I hope that this collection puts smiles on the faces of the staff, patients and parents.
Saffron will be representing Northamptonshire at the United Kingdom Galaxy Pageants competition in November of this year, and hopes to bring the UK title back to Northamptonshire. We wish her the best of luck!
Helping Higham Ferrers Nursery and Infant School
Wilson Browne are committed to supporting the local community and charities.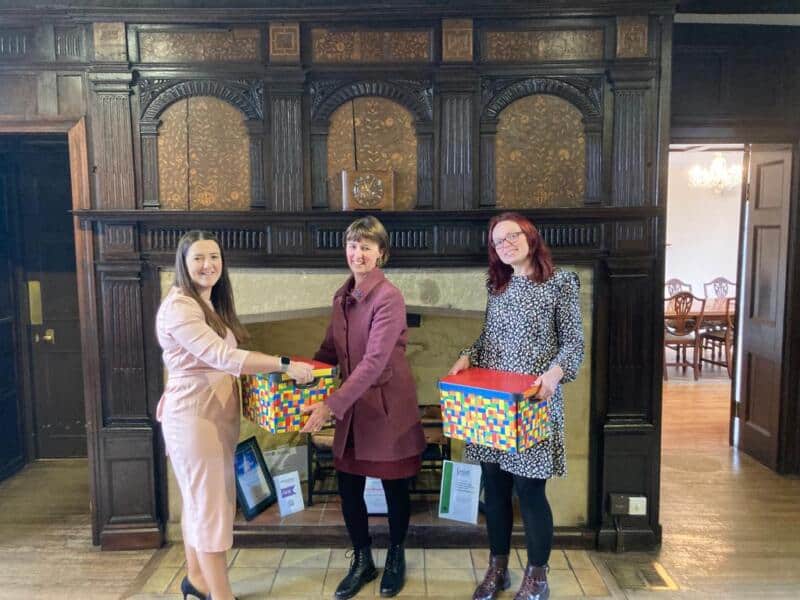 We contacted Higham Ferrers Nursery and Infant School a while ago to see how we could help them and what would make a good contribution to the children.
Mrs Betts suggested craft materials would make a very welcomed donation and we put together a couple of boxes of materials including paper, pens and Play Doh.
Sam Brett from the Residential Conveyancing team and Stacy Ludlam the from Private Client team presented Mrs Bett's with the gifts.
Mrs Betts said "Thank you very much for your kind offer and we would certainly like to take you up on it!!  School budgets are tighter than ever and the generosity of local businesses makes a real difference to our children. "
Legal Surgery For Leicester Hospital
Since 2017 we have been working alongside Leicester Hospitals Charity providing legal surgeries on Wills, Trusts, Estates and Lasting Powers of Attorney predominantly for NHS staff.
If clients instruct us we can prepare a simple will for a reduced fee. We encourage all to make donations to the charity which has to date included one person leaving most of their residuary estate to the charity!
We are helping raise awareness as to the importance of wills and other private wealth matters together with leaving legacies to the charity. We also provide Easter eggs and advent calendars for the children in the hospital.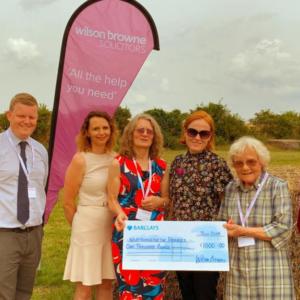 Trust Gallops Away With Donation From Solicitor
In September 2019 we were pleased to present Wilby Riding for the Disabled (WRD) with £1,000 raised at various events, supported by the firm and by clients and contacts at July's Lunch Club held at Elms Meadow.
The centre provides help and therapy to children and young people suffering many difficulties such as autism, cerebral palsy, sight and hearing impairment, epilepsy, asthma, amputees, cystic fibrosis and special educational needs.
Their work gives access to the countryside, to sport, to independence and mobility. The trust is always looking for volunteers, if you can help visit its facebook page.
A Little Christmas Treat For Children's Ward
Thousands of children spend Christmas in a hospital ward, making it a difficult time for them and their families.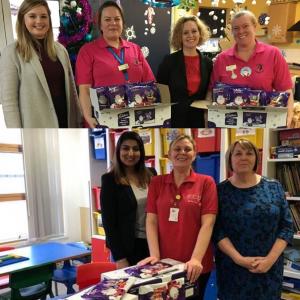 Wilson Browne Solicitors wanted to create a little magic to brighten up their spirits and so the firm have donated 100 selection boxes to two local hospitals for the children to enjoy.
Recently Neelam Maher, Partner and Head of the Private Client team and Vicki Pearce, Head of Court of Protection visited both the Children's wards of Northampton and Kettering General Hospitals to give out some chocolate
treats.
Neelam commented "The firm is very active in sponsoring local community projects in addition to supporting many charities.  It was a pleasure to visit the ward and meet the team that look after the patient's day in day out and bring a little festive cheer to both hospitals.

Feeding The Local Food Bank
Wilson Browne were very happy to recently donate some much needed food supplies to Kettering District food bank.
Kettering food bank work with Northants County Council, Trussell Trust, local Churches, and many other partners to provide Foodbank services to those in food poverty.
The parcels that they provide contain a minimum of three days' nutritionally balanced, tinned and dried food donated by the local community.
Pro Bono Work For Clifton Playgroup Completed
Wilson Browne Solicitors are committed to Corporate Social Responsibility; acting as a responsible employer within the community and ensuring that we put something back. Our recent instructions to act for Clifton Playgroup Limited on a pro bono basis were testament to exactly that.
Partner Tom Warrender, acted for Clifton Playgroup Limited in relation to their new lease of the playgroup premises at Clifton on Dunsmore Primary School in Rugby. The client's current lease was due to expire at the end of July and they did not benefit from what is known as statutory security of tenure meaning they had no statutory right to the grant of a renewal of their lease.  The premises are obviously fundamental to the operation of the playgroup and Tom was able to successfully assist the playgroup in negotiating a new two year renewal lease of the premises.
Tom commented "Clifton Playgroup is an integral part of the local community and it was an absolute pleasure to be able to assist them in this matter. The playgroup, as with many similar organisations, do fantastic work on extremely limited budgets and so to be able to assist them in this project on a pro bono basis was particularly pleasing."
Barbara Spiby, Playgroup Manager and Board Member of Clifton Playgroup Limited, commented, "To Tom I just want to say thank you. It's been tricky and without your guidance and expertise we would still be trying to sort this. You have been fantastic!!! Thank you very much. "You have been a great support. Leading us through a difficult situation and you have supported our lack of knowledge, with such kindness, consideration and patience. I really can't thank you enough."
Clifton Playgroup provides quality early years education for children aged between 2½ and 4 years in and around the parish of Clifton Upon Dunsmore, Rugby.  Further information can be found at www.cliftonplaygroup.org.uk.
Crazy Hats Breast Cancer Appeal
Wilson Browne continues its relationship with the Crazy Hats Charity, supporting Breast Cancer care in Northamptonshire
In July 2017, Partner Ika Částka, gave her time and expertise pro bono to assist the charity in drawing up the terms and conditions of a holiday home for those currently undergoing breast cancer treatment needing a well deserved short break.
More recently the Founder of the local charity Glennis Hooper was invited by Ika Částka to be guest speaker at the Law Society awards.  She spoke about her life and how a simple crazy idea became the charity reality, whilst trying on hats in Debenhams during Chemotherapy.
Glennis commented, "I have been given a fantastic opportunity by Wilson Browne to speak at the Law Society Awards and it has given me a platform to talk about my charity in Northamptonshire to members of the legal society."
Ika said "We, at Wilson Browne Solicitors, have witnessed first hand what an admirable job Glennis and the team do in raising essential funds for a great cause. We look forward to continuing our relationship in 2018 and supporting their fantastic work.
Air Ambulance Flying High
Over £1000 has been donated to the local Air Ambulance Service by Wilson Browne who chose the Charity to be their Charity of the Year 2017.
£1172.50 was raised through a number of fundraising events including cake sales and the ever popular quiz nights.

Northamptonshire Community Foundation
We have teamed up with the Northamptonshire Community Foundation (NCF) to create a new fund for community groups in Kettering. NCF has a wealth of knowledge of the need within Northamptonshire and funds community-based action which improves the lives of the county's most disadvantaged people and communities.  Recently this included donating to Youth Works CIC.
Neelam Maher, Partner at Wilson Browne Solicitors (Kettering office) presented a cheque for £1,000 to Youth Works Corby and Kettering CIC,  a not for profit organisation delivering much needed services to young people and their families in the Kettering and Corby area.
Homestart Kettering
Debbie Hope, Private Client Practitioner at Wilson Browne Solicitors (Kettering office) presented a cheque for £800 to Home-Start Kettering, a not for profit organisation delivering much needed services to families with young children in the Kettering and Corby area.
The donation was made via The Wilson Browne Kettering Community Fund, which is in turn managed and facilitated by Northamptonshire Community Foundation.
Debbie Hope, Private Client Practitioner at Wilson Browne Solicitors comments: "As a local business with our roots firmly in the communities in which we operate, we aim to put something back in to those communities. This is just one of the many ways in which we do that."
Nikki Farrar-Hayton, Manager at Home- Start Kettering said "A very big thank you to The Wilson Browne Solicitors community fund. Your generous award will enable us to train one new Volunteer and sponsor them throughout their family visiting for a full 12 months including ongoing training and supervision as well as their travel expenses."
Naomi Butters, Northamptonshire Community Foundation, Fund Development Manager adds: "We are pleased to manage the delivery of this fund which is a great benefit to community groups in the Kettering area and we hope it will spur other businesses on to supporting the Foundation."
The Foundation has a wealth of knowledge of the need within Northamptonshire and funds community-based action which improves the lives of the county's most disadvantaged people and communities.
Other Fundraising
Wilson Browne supports a number of other causes including: Jeans for Genes, Wear it Pink and Movember. In previous years our corporate charity programme has also supported charities such as MacMillan Nurses, The Warwickshire and Northamptonshire Air Ambulance and The Cynthia Spencer Hospice.
Sport
Northamptonshire Sport Northants 5K Race Series 2022
Wilson Browne is very pleased to announce that we will once again be partnering with Northamptonshire Sport and sponsoring the Northants 5K Race Series as it celebrates its 10th Anniversary in 2022.
The race series firmly embedded in the County's annual running calendar, takes full advantage of the beautiful parklands and woodland in our area. It has become a regular fixture in the county's annual running calendar with hundreds of runners taking part last year, including club runners, jogging groups and those who are completely new to running, the 5k Race Series offers something for everyone.
Dates and venues for the races have been confirmed as follows:
Race 1 – Delapre Abbey 24/04/22 – 10.30am
Race 2 – Boughton House 18/05/22 – 19:30pm
Race 3 – Castle Ashby Gardens 15/06/22 – 19:30pm
Race 4 – Chester House Estate 17/07/22 – 10:30am
Race 5 – Brixworth Country Park 04/09/22 – 10:30am
Click here for more information and to sign up
Supporting Youth Sport: Corby & District, Youth Cricket League
The Wilson Browne Youth League covers the clubs in the Kettering & Corby District with leagues for Under 11, 13, 15 and 17.
As long time sponsors, we were pleased to attend the annual awards, attended by Ika Částka who has supported the league for some time, in no small part due to her professional and personal interest owing to a family love and participation in the game – both of her sons have played in the League.
Ika comments:
As a local employer, we have always made it our aim to put something back in the community and that includes supporting numerous local sports grounds, clubs and various leagues.
Whether supporting under-privileged children in the Gambia, being a main sponsor for the Pride In Northamptonshire Awards and similar, or simply lending support to local activities, it always give me great pleasure and  pride that Wilson Browne Solicitors is able to help.
The Arts
Wellingborough Orpheus Choir
We are proud to sponsor the Wellingborough Orpheus choir which is a 50 strong amateur mixed voice choir, which celebrated its Diamond Jubilee in 2013, mainly singing major choral works but also songs from the shows, gospel music, operetta, and other light music.
Maureen Williams, Press Officer for Orpheus Choir commented "We are delighted to have the support of Wilson Browne Solicitors again in 2022.  This sponsorship will help us to continue to provide performances with an orchestra and/or professional soloists, whilst keeping ticket prices at an affordable level."
Kevin Rogers "Wilson Browne are committed to Corporate Social Responsibility acting as a responsible employer within the community and ensuring that we put something back. We are proud of our involvement in our local communities and are delighted to be able to support the choir in Wellingborough"
More information can be found on the choir's website
Pantomime Partnership with the Lighthouse Theatre, Kettering
Since 2017 Wilson Browne Solicitors is proud to have sponsored the pantomime at The Lighthouse Theatre.
Working in partnership with Jordan Productions the event gets more and more popular each year with over 18,000 visiting in 2019 to see Cinderella.
The pantomime is hugely popular with both young and old and plans are already well under way for this year's show and the two organisations are working on some spell-binding ideas and magical surprises.
Wayne Jenkins, BD & Marketing Director at Wilson Browne Solicitors commented "It's great to be working with The Lighthouse Theatre for the third year in a row.  The firm has its roots firmly in the communities in which it operates – most of our employees and clients are local and we work hard to ensure we give something back. "
Sponsorship
Higham Ferrers Christmas Sparkle
The Christmas Sparkle is the busiest event in the calendar for Higham Ferrers.
For many years Wilson Browne Solicitors have supported the event by inviting clients into the office on the market square for a festive drink and mince pie as well as offering Christmas activities for their children.
For the past 2 years, the firm has supported the event by sponsoring the performance stage, a well needed covered space during the exceptionally cold winter day.
Naomi Edwards, Marketing Executive at Wilson Browne Solicitors said " Community is everything in Higham Ferrers and it's lovely to see clients join us during the festive period year after year. We are proud of our involvement in our local communities in which many of our employees live."
Northamptonshire Food & Drink Festival
Wilson B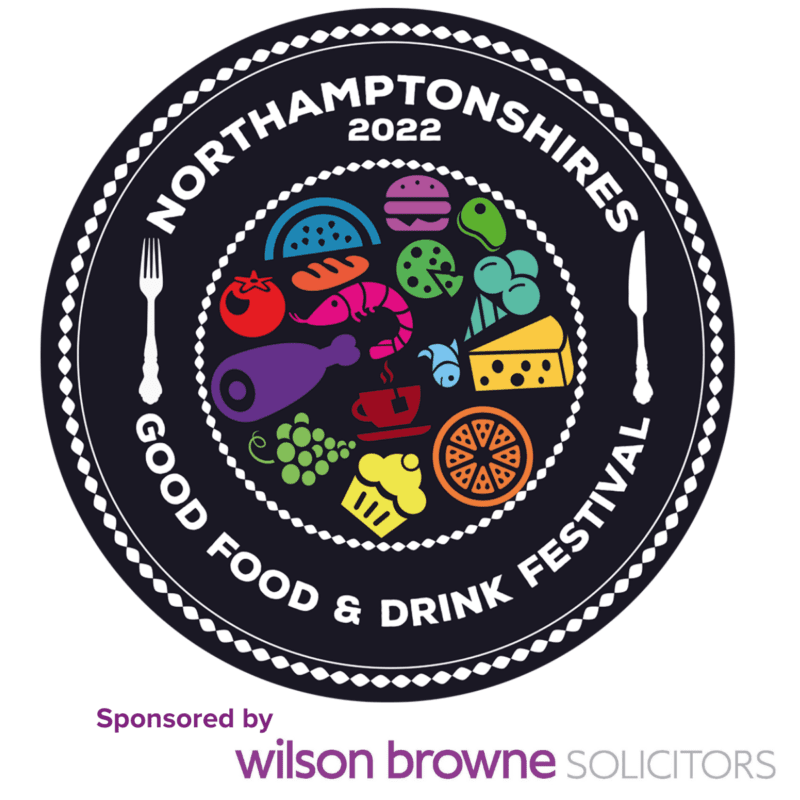 rowne Solicitors is proud to sponsor the Northamptonshire Food and Drink Festival.
The event brings together local food producers offering a variety of produce and delicacies as well as providing them with an opportunity to display their passion for food and drink.
The fun filled day, which also included a wide range of entertainment for all the family to enjoy, is free to attend and gives food and drink lovers a chance to sample and purchase local produce made in Northamptonshire as well as the surrounding area whilst relaxing in the summer sunshine and beautiful gardens of the award winning Kettering Park Hotel & Spa.
Crick Scarecrow Festival
Wilson Browne has supported the Crick Scarecrow festival for a number of years.
The festival offers 2 days of free music, displays & taster sessions, inflatables & children's rides, bars, BBQ and food vendors,
There are also 25+ crafts / stalls, so plenty for all the family to enjoy.
Community Involvement
We are proud of our involvement in our local communities. We have Treasurers, Committee Members, Governors and other roles at many local sports clubs and educational establishments such as pre-schools, primary and secondary schools, churches and other organisations. Many of our lawyers are actively involved with Rotary Clubs across the East Midlands, where we raise money for local and national charities.