Employment Law Guide For Start-ups
Starting a business can be daunting. There are so many things to keep on top of – accounts, marketing, IT and administration.
You can read the guide below, or download your FREE copy HERE
And that's before you factor in the day job! So it's not surprising that you may have decided to recruit someone to help you with some of these tasks.
In this guide, we have covered some key matters for you to be aware of when recruiting.
The Recruitment Process
Employment status
In employment law, there are three employment statuses; namely
Self-employed contractors – If you're self-employed, you do not have a contract of employment with an employer. You're more likely to be contracted to provide services over a certain period of time for a fee and be in business in your own right. You'll also pay your own tax and National Insurance Contributions.

You don't have employment rights as such if you're self-employed as you are your own boss and can therefore decide how much to charge for your work and how much holiday to give yourself.
You do have some legal protection. You must not be discriminated against, and you're entitled to a safe and healthy working environment on your client's premises.

Workers – A worker is any individual who works for an employer, whether under a contract of employment, or any other contract where an individual undertakes to do personally any work or services.
Employees – you are classed as an employee if you are working under a contract of employment.
The first question you need to answer is what status is right for your recruitment purposes? For example, do you need a casual worker who can refuse work if they don't fancy it that day, or someone who will be obliged to accept work when offered?
It's important that the status is correctly identified at the outset for various reasons. Not least the different rights that are afforded to each of the above. For example, the right not to be unfairly dismissed only applies to employees, whereas minimum wage rights (National Minimum Wage Regulations – see below) apply to workers and employees.
This has received a lot of press with the emergence of the "gig economy". Many will know of the cases involving Uber drivers and Yodel delivery drivers.
It's important to remember that the label alone is not determinative of the status. Just because someone is labelled "a self-employed contractor" and treated as such for tax purposes does not mean they are self-employed for employment law purposes!
A number of tests have been applied in the courts for the purpose of identifying someone's correct status in law. Ultimately, the decision will depend on what is happening in practice.
Advertisements
It's important to bear in mind that anti-discrimination laws are not dependent on any length of service – they apply even before an employment relationship arises.
There are many ways to avoid any form of discrimination when advertising a vacancy, including:
don't use gender-specific language – e.g. salesman.
don't add an age range for the role but also avoid using implying terms such as 'youthful' or 'mature'.
don't add criteria that are not necessary for the job, such as 'requires driving license' for an office-based role.
use neutral wording where possible.
ask a person skilled in employment law to check your job adverts before publishing.
The key to avoiding discrimination in a job advert is to check the wording used carefully before the ad is published. Take the time to see how the advert may be perceived by those with a protected characteristic.
Interviews
Here are some key things to keep in mind when interviewing candidates in the UK:
Avoid discriminatory questions: Employers in the UK are prohibited from discriminating against job applicants based on age, disability, gender reassignment, marriage and civil partnership, pregnancy and maternity, race, religion or belief, sex, or sexual orientation. Therefore, you should avoid asking questions that could be perceived as discriminatory, such as questions about a candidate's age, marital status, or plans to have children.
Focus on job-related qualifications: When interviewing candidates, make sure to focus on the job-related qualifications that are required for the position. Questions should be designed to assess a candidate's ability to perform the duties of the job and should not delve into personal information or characteristics that are not relevant to the role.
Avoid asking about health or disability: Questions about an applicant's health or disability are generally not allowed, except in limited circumstances where it is necessary to determine whether the applicant can perform the job duties with reasonable adjustments. In general, it is best to avoid questions related to health or disability during the interview process.
Offer reasonable accommodations: If a candidate has a disability or requires any reasonable accommodations for the interview process, employers are required to provide these accommodations. This may include making adjustments to the interview format, providing additional time or breaks, or offering assistive technology.
Be transparent and clear: Make sure that your job advertisements and interview questions are transparent and clear. Candidates should clearly understand the job requirements and what is expected of them, as well as any relevant policies or procedures that apply to the position.
Keep records: Employers should keep records of their recruitment and selection process, including interview questions and notes. This can help to demonstrate that the process was fair and transparent, and can also be useful in the event of a legal challenge.
Provide feedback: Regardless of whether a candidate is successful, it is important to provide feedback on their interview performance. This can help them to improve their skills and can also help to maintain a positive reputation for your organisation.
Job Offer
Here are some key things to keep in mind when providing a job offer to a candidate:
Confirm the offer in writing: It is important to confirm the job offer in writing, including details such as the start date, job title, salary, benefits, working hours, and any conditions of the offer. This provides clarity for both the employer and the candidate and can help avoid future misunderstandings or disputes.
Be clear about any conditions: If the job offer is conditional on certain requirements, such as a background check or references, ensure these conditions are clearly stated in the offer letter. This helps manage expectations and ensures the candidate understands the requirements before accepting the job offer.
Set a deadline: Employers should set a deadline for the candidate to respond to the job offer. This allows the employer to make alternative arrangements if the candidate does not accept the job offer and helps to avoid delays in the recruitment process.
Provide details on the onboarding process: The job offer should also provide details on the onboarding process, such as the induction process, training, and any relevant policies or procedures that the candidate will need to be aware of.
Comply with legal requirements: Employers must comply with legal requirements, such as the right to work checks, before making a job offer. Failure to do so can result in significant fines or other penalties.
Follow up promptly: Once the candidate has accepted the job offer, employers should follow up promptly with any further details or requirements, such as pre-employment checks or additional paperwork. This helps to ensure that the onboarding process runs smoothly and that the candidate feels supported and valued.
Contract
The key document for any business relationship is the contract. For this guide's purposes, the key contracts are:
the consultancy/self-employment/casual worker agreement/contract, and
the contract of employment.
Every employer in England and Wales is obliged to provide its employees and workers with a written statement containing minimum information in relation to their terms and conditions of employment. The required terms include (but are not limited to) the following:
The date on which employment begins;
Training provisions;
Job description;
Place of work;
Hours of work;
Payment details;
Details of sick pay;
Details of pension and other benefits;
Details of holiday and other leave entitlements;
Details of disciplinary and grievance procedures; and
The names of the employer and the employee.
You should provide this statement on or before the first day the employee or worker starts work. Some of this information can instead be included in a reasonably accessible document referred to in the contract – for example, in a handbook or on the organisation's intranet.
Employers often include more terms than those listed above in their contracts to protect their business. You may want to consider including provisions covering:
Trial periods
Restrictive covenants
Confidential information
Company property
Termination
Deduction from wages
Intellectual property.
Policies
Whilst contracts will contain the contractual terms of the business relationship, it is important for an employer to have a handbook for several reasons in UK employment law:
Legal Compliance: A handbook can be a useful tool for employers to ensure compliance with relevant laws and regulations, including those relating to equal opportunities, health and safety, data protection and more.
Consistency: A handbook provides a consistent reference for employers and employees, ensuring that policies and procedures are applied equally to all employees.
Communication: A handbook can help communicate the employer's expectations and obligations to employees, reducing the risk of misunderstandings or disputes.
Employee Relations: A handbook can help foster positive employee relations by providing clear guidance on employers' and employees' rights and responsibilities.
Evidence: In the event of a dispute or legal claim, a handbook can provide evidence of the employer's policies and procedures and may be used in court as evidence of best practice.
Protection: A handbook can provide protection for the employer by setting out the procedures for dealing with disciplinary and grievance issues, as well as providing guidance on how to handle sensitive issues such as sick leave and absence.
There are a wide range of policies that employers should consider having in place. Some key policies are listed below, but this is a non-exhaustive list, and employers should consider which workplace policies will be appropriate in each case.
Health and Safety;
Equal Opportunities;
Disciplinary;
Data Protection / Privacy;
IT & Communications;
Grievance,
Sick leave and pay;
Any other paid leave; and
Pension scheme information.
Statutory rights
There are certain minimum terms of employment (known as "statutory rights") which will be deemed to be included in any contract of employment. These will override any contractual terms which are less generous. These rights are not dependent on the length of service.
We have detailed some of the more important statutory rights below.
Anti-discrimination laws
Employers must ensure that they provide equal opportunities and prevent discrimination in the workplace. Discrimination law is designed to ensure equality of opportunity at work. It can also protect employees' dignity and ensure that complaints can be raised without fear of reprisal.
Businesses must not discriminate against employees on the basis of the following characteristics:
sex;
gender reassignment;
being pregnant or on maternity leave;
being married or in a civil partnership;
race;
disability;
sexual orientation,
religion or belief; and
age.
Discrimination law covers all areas of employment, including job adverts and the recruitment process, conduct during employment, work social events, and job references.
Given the breadth of discrimination law covering employment and the significant compensation that can be awarded for failing to comply, it is important for employers to take specialist legal advice. Our employment team regularly advisers employers on discrimination issues and can assist in taking practical steps to help avoid breaching discrimination law, such as:
Providing training to managers and employees on equal opportunities and harassment;
Advising employers on the obligation to make reasonable adjustments in respect of disabled employees.
Assisting employers in response to requests for flexible working, shared parental leave, time off for dependents etc.;
Reviewing policies, contracts and procedures to ensure that they comply with the discrimination laws; and
Make reasonable adjustments where this will alleviate difficulties suffered by a disabled employee in the workplace (for example, by installing wheelchair ramps).
National minimum wage
A national living wage applies to workers aged 25 and over in England and Wales. There are separate National Minimum Wage rates for those under 25. Please see the table below: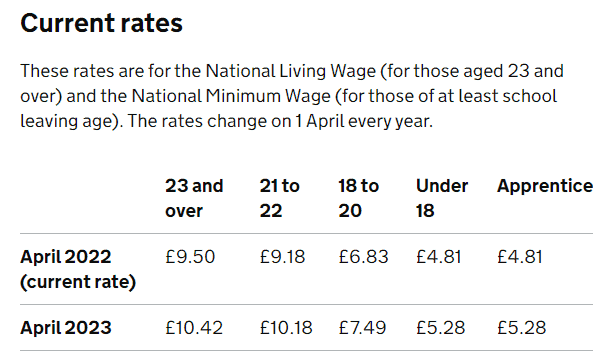 Holiday
Full-time employees are entitled to at least 28 days' paid holiday in each holiday year. This entitlement can include the usual eight public holidays, but public holidays can be provided in addition to the statutory minimum entitlement.
This entitlement is pro-rated for part-time workers. We have produced a comprehensive guide on how to calculate atypical worker's annual leave entitlement, which is available here 
Statutory sick pay
Employees are entitled to take time off work if they are sick. Employers must provide statutory sick pay for eligible employees and should have a sickness absence policy in place.
Most employees absent from work due to sickness are entitled to a statutory rate of sick pay for up to 28 weeks in any three year period.
Self-certification refers to the process by which an employee notifies their employer that they cannot work due to illness or injury and provides information about the duration of their absence. This is typically done by filling out a form or emailing their line manager or HR department. In most cases, self-certification is used for absences of up to 7 days and does not require the employee to obtain a doctor's note.
Fit notes, on the other hand, are documents that are issued by doctors to employees who are unable to work due to illness or injury. They are used for absences of more than 7 days, and provide information about the employee's condition and their expected return to work date. Fit notes may also provide recommendations for adjustments to the employee's work duties or environment to support their recovery.
Equal pay
Employees also have the right to receive equal pay to that received by members of the opposite sex if they are doing equivalent work or work of equal value.
This not only refers to salary but also covers other contractual benefits.
Maternity Leave
Employees are entitled to 52 weeks maternity leave plus the right to return to their existing job after maternity leave and statutory maternity pay for 39 weeks.
Paternity
Employees are entitled to two weeks of paid paternity leave.
Adoption
Employees are entitled to 52 weeks of adoption leave plus the right to return to their existing job after adoption leave.
Statutory adoption pay for 39 weeks.
Five paid adoption appointments for the main adopter and two unpaid adoption appointments for the second parent
Unpaid parental leave
In addition, parents are entitled to unpaid leave in the first 18 years of the child's life.
Please refer to this government document which provides full details of family-friendly rights
Pension
Employers are required to:
Automatically enrol certain workers into a qualifying pension scheme;
Make contributions on their behalf;
Register with the UK Pensions Regulator;
Provide workers with certain information about the pension scheme and their rights.
Termination
The termination of employment is a significant event in the employment relationship and must be handled in accordance with the terms of the employment contract and relevant laws.
Employers must be aware of their legal obligations when terminating an employee's employment and take steps to ensure that the process is fair and compliant.
Fair Procedure
Employers must follow a fair procedure when terminating an employee's employment. This usually involves providing the employee with the reason for the termination, giving them an opportunity to respond, and considering their response before making a final decision. The exact procedure will depend on the circumstances of the case, but employers must ensure that the process is transparent and impartial.
Valid Reason
Employers must provide a valid reason for the termination of employment. This could include redundancy, poor performance, misconduct, or the end of a fixed-term contract. The reason must be related to the employee's conduct or capability and must not be discriminatory.
Notice Period
Employers must provide the employee with a notice period before the termination of employment takes effect. The length of the notice period will depend on the terms of the employment contract, but it must not be less than the statutory minimum.
Redundancy
If the termination of employment is due to redundancy, employers must follow a specific procedure set out in the law. This includes consulting with the affected employees, considering alternatives to redundancy, and providing a fair selection process. Employees with two years' of continuous service are entitled to a statutory redundancy payment.
Unfair Dismissal
Employees have the right to claim unfair dismissal if they believe that their employment has been terminated unfairly. The claim must be brought within three months, less a day, of the termination of employment, and the employee must have at least two years of continuous service. An employment tribunal will consider the fairness of the process followed by the employer and whether the reason for the termination was valid.
How can the Wilson Browne Employment Team help you?
We advise employers of all sizes on the full range of employment law issues and as a small, closely-knit, team, we are proud of the personal relationships we build with our clients.
Our Employment Team has assisted numerous employers by helping to avoid potential pitfalls by drafting employment contracts tailored to meet their business's specific needs.
We also have extensive experience with the use and enforceability of restrictive covenants, which are clauses designed to protect the business once the employee's employment has terminated.
With regard to employment policies, there are some that are a legal requirement or can have a significant legal impact, such as grievance and disciplinary rules and procedures and health & safety policies, but there are a variety of other policies that employers often adopt. With such a multitude of policies, it is easy to see how they can become over-complicated and out of date.
Our team can review your existing policies to ensure that they are up to date and fit for purpose. Alternatively, if you do not have any policies or are simply looking to replace your existing policies, we have a fixed price package for 11 clearly drafted, fully bespoke, up-to-date core HR policies.
The policies cover absence management, disciplinary and capability, redundancy, equal opportunities, whistleblowing, harassment and bullying, grievances, bribery, holiday maternity and paternity, health and safety, IT, and social media. All of this is available for a fixed price that we will agree on upfront.
We also have a vast array of guides for employers listed on our website.
If you need any assistance in relation to any employment matters please contact our Employment team or fill in our online form.