Reasons to choose Wilson Browne
The Medical Negligence Team is one of the largest teams in the East Midlands.
We understand what you're going through, and will help you get the answers and the compensation you deserve. You can be assured that you'll be talking to the experts – members of our team have been recognised by the Legal 500, the definitive guide to "who's who" in the legal world.
The team have secured over £23 million of damages for victims in the past 12 months.
Read how clients have benefited from the team's expertise following successful medical negligence claims.
Note: some names have been changed to protect the identity.
"Benign" Facial Lump Was In Fact Cancer
We were instructed to investigate a delay in diagnosing cancer which had started as a facial lump.
Early 2013 our client noted that she was unable to raise her left eyebrow, so she attended her GP and was referred to Leicester Royal Infirmary, for an MRI scan.
The scan revealed a lump and she diagnosed with a likely Warthins's tumour, which is a common tumour of the salivary glands which is usually benign.
Our client continued to notice a 'crawling' feeling and movement in her face and the following year she reported that the lump had enlarged and complained of spasm and twitching of the cheek. A repeat MRI diagnosed the lump this time as a high-grade mucoepidermoid carcinoma. This is a distinct type of tumour which is malignant
She was referred urgently for further investigation and underwent surgery January 2016 followed by radiotherapy. She was left with a left facial palsy and required surgery to correct the lower eyelid, a was weight inserted in the upper eyelid and she had extraction of her upper tooth due to infections.
The client came to us to as she was concerned about the delay in diagnosing the Cancer and wondered if it could have been diagnosed sooner when she first discovered the lump 3 years previously.
We entered into a no win no fee agreement (Conditional Fee Agreement), obtained her medical records and obtained an expert report from an ENT Consultant which was supportive in that there had been undue delay. We served a detailed letter of claim on the Hospital Trust and they admitted the delay but denied that it meant the cancer was more advanced by the time it was diagnosed.
Our Expert advised with regard to causation that our client would have avoided the following if diagnosed sooner:
facial palsy of the eye, mid and lower face
consequential problems in relation to her left eye closure and the two additional ophthalmic operations
the requirement to use lubricating creams in her left eye which cause constant blurred vision
the risk of increased occurrence of conjunctivitis and the risk of corneal ulceration
the need for future reanimation surgery
an increased risk of recurrence of the cancer from between 10 and 30%, to now 40%
psychological symptoms associated with her reduced self-image and self-confidence as a result of the facial palsy
It was accepted that she would have required radiotherapy in any event even if diagnosed sooner.
We served the Hospital Trust with a detailed schedule of loss including damages for our clients pain and suffering, loss of earnings and cost or additional care and the case settled for £135,000.
Knee Operation Gone Wrong
This case was run under a Conditional Fee Agreement (aka no win – no fee).
In the following article, we have greatly simplified a complicated case with an equally complex background and timeline.
Miss H had previously brought a claim with regard to a right knee replacement in 2013.  That procedure was performed negligently by a surgeon and a claim was issued against BMI Healthcare Limited. The solicitors representing the Claimant at that time admitted breach of duty but the extent of the injury was challenged.
It appears proceedings were issued but not served (in simple terms, the case was never followed through). Unfortunately during this time Miss H was declared bankrupt but her solicitors were not aware of this until after the claim against BMI had been issued. What this meant is that the cause of action rested with the official Receiver. In the end, the cause of action was assigned by the Official Receiver to BMI Healthcare. Miss H received some of the damages but not all due to her bankruptcy.
The background of the previous claim is important because the current claim that Miss H instructed us to pursue is in respect of a further procedure performed by the same surgeon to the right knee.  The Defendant in this case was George Eliot Hospital NHS Trust, and it was alleged that the procedure was performed negligently which resulted in the need for yet more revision (corrective) procedures.  The Defendant didn't know that the initial/original procedure had been performed in a substandard manner until she was examined by another consultant in July 2017 which was after the previous action had already come to an end.
Therefore we had to look at the previous advice given by the Orthopaedic expert on condition and prognosis and we had to look at the preliminary Schedule of Loss that had been prepared (although not formally served).
In our claim we sought advice from Mr Christopher Wilson, Consultant Orthopaedic Surgeon, and he was the sole expert who advised us throughout.
Putting to one side a lot of detail regarding certain events and specific dates, it became clear at the beginning of 2022 that Miss H was continuing to struggle with her right leg and her consultants started to talk about amputation due to an on-going infection problem.
We agreed with the Defendants that it would be necessary to stay (place on hold) the proceedings to enable Miss H's treatment to conclude before we would be able to finalise the claim.
It was quite clear that it was going to be very difficult to say that the on-going infection was causing the need for the leg to be amputated, and that it was actually related to the negligent surgery: on the balance of probabilities it would be impossible to say as much and it was more likely stemming from the original surgery which obviously pre-dated this action. Mr Wilson (Consultant Orthopaedic Surgeon) would not have been able to complete his advice until Miss H's surgery had been completed.
The Defendant offered to settle the case in the sum of £250,000 on 8th June 2022.
It was considered that the offer was a reasonable one, but Counsel felt we should go back and make a counter-offer to see if we could improve on it. Case eventually settled for £425.000.
Partner and Head of Team Louise Tyler dealt with the matter with support from other members of the team.
Bowel Cancer Wrongly Diagnosed as Haemorrhoids.
This case was pursued via Conditional Fee Agreement, often referred to as no win – no fee.
Mrs H was 57 years old when she attended Northampton General Hospital. Following a colonoscopy she was advised that she had haemorrhoids but nothing else and had treatment: she continued to be quite unwell and unable to work given the discomfort coupled with pre-existing osteoarthritis.
She was referred for a further colonoscopy and on this occasion the cancer diagnosis was confirmed and she was advised that the cancer was present previously in July 2015, meaning a delay in diagnosing of 8 months.
Mr Aziz, Colorectal Surgeon, was informed of what we felt was a clear breach of duty and causation.  He was supportive saying that due to the poor prep for the colonoscopy this should have been repeated, and if it had been it would have been within a few weeks and her diagnosis would have been made a lot sooner.  He also initially thought that her cancer would have been less advanced.
We subsequently obtained a report from Professor Price, Consultant Oncologist.  She anticipated that the staging of the cancer would not have been any different and so the treatment would have been very similar but Mrs H would have avoided the two haemorrhoid procedures and also avoided having the stronger combination of 2 types of chemotherapy.  By only having single agent chemotherapy she would have avoided the drug Oxaliplatin and by avoiding this drug she would have avoided the risk of neuropathy (nerve damage: SEE MORE) which she suffered as a result of the chemotherapy treatment.
Although the neuropathy was confirmed in Hospital records she hadn't had any tests or been offered any treatment so we instructed Dr Gross, a Neurologist, to advise on this and it meant Mrs H had to undergo some tests so he could confirm the diagnosis and then confirm whether he felt that the causation of this flowed from the Oxaliplatin which he thought it did.
We therefore considered that we had established liability and causation.
There was a partial admission from the Defendant in that they agreed there had been a delay, and they felt that her treatment would have been exactly the same, including the chemotherapy, and therefore they felt that the neuropathy would not have been avoided.
An additional complication was the fact that Mrs H was not working at the time of the diagnosis  – she argued that she would have been working had the diagnosis been made correctly and felt she would have been able to return to work due to being in a better position to deal with the cancer diagnosis and treatment.  The difficulty with this was that she had previous time off work, particularly with regard to her pre-existing osteoarthritis so loss of earnings was in dispute.
Following negotiations and mediation, a settlement was reached at £40,000, all led by Partner and Head of Team Louise Tyler.
Delayed Diagnosis For (Lung) Cancer
Represented by Louise Tyler.
The Claimant instructed us following the death of her husband.  In February 2008 Mr Gough attended his GP with concerns about his health.  His father had been diagnosed with lung cancer and other family members had also suffered from this disease.   Mr Gough was advised to stop smoking and was referred for a blood test and chest x-ray.  The results were reported as clear.
In May he began to suffer with severe back pain and was prescribed pain relief.
August 2009 – he began to experience pain in his shoulder and elbow.  He was diagnosed with tennis elbow and prescribed with anti-inflammatory medication.
On 25th January 2011 he was feeling generally unwell with some weight loss. The GP referred him for a chest x-ray and blood test.  The blood results came back normal however the x-ray noted a mark from outside the lung or a nodule which was benign in nature.  He was therefore advised for a repeat x-ray to be done in 3 months' time at the Queens Medical Centre Hospital in Nottingham.  The GP wasn't happy for him to wait 3 months and therefore requested the x-ray take place in 4 weeks' time.   The request from the GP was rejected by the radiology department as the recommended time was 3 months.
On 21st April 2011, 3 months later, he went for a second x-ray and the results noted unchanged "probably a lung nodule" and that a CT scan would be required to fully investigate.
31st December 2012 he was seen by his GP suffering from severe pain for a few days in his left buttock reaching down to his foot.   He was advised that it was sciatic and prescribed with anti-inflammatory medication.
4th January 2013 he returned to his GP as the pain in his left buttock and foot continued and he was experiencing stomach problems.  The GP advised that this could be due to anti-inflammatory medication which he was advised to stop taking.
11th September 2013 he attended a further appointment due to pain in his right elbow when steroid injection treatment was discussed.
Then 7th January 2014 he was experiencing severe chronic back pain and as there were no appointments at the GP he attended the Queens Medical Centre Hospital Accident and Emergency Department and was prescribed with morphine and discharged the same day.
13th January 2014 he attended his GP still complaining of severe back pain, reduction and inability to raise his leg and struggling to walk.   He was referred to Nottingham Hospital to investigate his symptoms.
17th January 2014 he attended his GP again complaining of extreme night sweats and very stiff back.   He was still unable to raise his leg.
Urgent blood tests were taken and on 20th January 2014 the GP informed him that his blood showed a high CRP level.  An emergency appointment was made for him the following day and at that appointment the GP noted that he was unable to raise his leg more than 70º and had been in pain now for the past 6 weeks. The GP requested an emergency appointment at the Hospital orthopaedic department.  He also undertook blood tests and advised Mr Gough that he was unhappy with the results and that he should attend hospital the next day.
22nd January 2014 Mr Gough was admitted to Queens Medical Centre Hospital in Nottingham and underwent blood tests and CT scan.  The results of the CT scan confirmed a primary lung tumour but the cancer had also spread to his bones.   Over the next couple of months he was on pain medication.  He required biopsies and radiotherapy and due to his severe condition he had to remain in bed.  He underwent a 5 day course of radiotherapy and biopsies in February 2014.  These confirmed he had advanced metastatic cancer from a right lung primary tumour.  He was under palliative care and sadly passed away on 1st April 2014.
On receipt of expert evidence it was advised that the GP should have referred Mr Gough for a lung scan rather than simply accepting the x-ray diagnosis that was given in January 2011.
The GP in response to a written complaint by the family acknowledged that he had accepted the consultant radiologist's report and he should have questioned this as Mr Gough kept returning to him with on-going symptoms.
We obtained a report from an experienced GP expert which was supportive. Our expert on causation, a Consultant in respiratory medicine, advised that the GP's failure to refer Mr Gough for further evaluation of the nodule amounted to a breach of duty of care.   Our expert oncologist advised that had he been referred sooner he would have had treatment, the cancer would not have metastasised and he would not have passed away when he did.
The claim was brought on behalf of the estate and on behalf of Mrs Gough, his widow.   The case settled for £400,000.
What is remarkable in this case was the fact that the GP, who the claim was brought against, actually acknowledged his fault in his letter of response to the family's letter of complaint.
Hernia Repair Complications Led To Unnecessary Death
Represented by Gemma Pabari.
This is a case which was brought against both the GP and Bedford Hospital NHS Trust.
When we were first instructed, the claim was brought by the Deceased. He had already received a letter of apology from the GPs involved in his care. Unfortunately the Deceased passed away during the course of the claim, so it was continued by his wife as Executor of his Estate.
In summary, the Deceased underwent a repair of a paraumbilical hernia at the Manor Hospital and awaiting this initiative on 28 November 2011.  He was due to have a repair of the hernia in 2016, albeit he did not hear anything more about this even though funding was granted for this procedure.
In January 2019, he underwent a one stop Urology Clinic with haematuria which revealed a multi focal bladder tumour.  He therefore underwent a transurethral resection of bladder tumour and deep biopsies of bladder tumour. Abdominal examinations also revealed an umbilical hernia.  He was discharged for community care.
On 26 January 2019, he attended the Accident & Emergency Department again presenting with urinary retention and constipation and was discharged with a catheter and underwent a CT scan of his renal and abdomen 2 days later.
District Nurse care was commenced on 29 January 2019 which noted that the Deceased could not pass urine and was re-admitted but had not been able to open his bowels since. Lactulose had been prescribed and the District Nurse asked the GP for something stronger.
On 30 January 2019, the District Nurse again contacted the GP to inform him that the prescribed Cosmocol was making the Deceased extremely unwell and he had still not opened his bowels for the last 10 days and was in severe pain. The District Nurse asked for a home visit from the GP, however the GP only provided further laxatives.
On 31 January 2019, the Deceased telephoned the GP and advised that his bowel had still not opened and asked that somebody attend to him. The GP asked them to contact the District Nurses again.
On 1 February 2019, the District Nurses were very concerned as the Deceased had still not opened his bowels.  An examination was performed which confirmed there was very little in the rectum and that he would require intervention.  The Deceased then spoke to the GP who advised that if he still did not feel better then he should go to the Out of Hours service.
He attended the A & E Department on 2 February 2019 where it was confirmed that he had distended abdomen associated with an abdominal para umbilical hernia.  He was referred for surgical opinion and underwent an emergency laparotomy, hemicolectomy, ileostomy and mucosa fistula. He was transferred to ITU where he suffered from 2 cardiac arrests that night and was resuscitated. He remained an inpatient in ITU for 10 days before being transferred to another ward.
The Urological Surgeon also examined him while he was in hospital and advised that his bladder tumour was now at G3PT2 however, given the recent surgery that he underwent, he was not fit to treat his bladder cancer until he was fully recovered. Unfortunately the Deceased was unable to build up his strength and sadly passed away without being treated for cancer.
This case was more complicated as we obtained expert evidence from a number of different professional, a General Practitioner, a Consultant and a Professor of Gastrointestinal Surgery, a Radiologist, an Oncologist and a Cardiologist. It appeared that the Defendant had a weaker case on causation than we did. Our expert evidence appeared not to support that the death was related and infact it was a non-negligent cardiocerebral even which led to the Defendant's sad passing.
Counsel was instructed in this matter and we put forward a Schedule of Loss to the Defendant, following a number of indepth conferences with all of the experts. Unfortunately the GP's representatives were very delayed in their response and NHSR on behalf of the Trust eventually ended up acting for both Defendants.
Negotiations commenced and we settled the claim for £50,000.
Cancer Could Most Likely Have Been Treated If Proper Diagnosis Had Been Given.
Represented by Louise Tyler
Mr Haley was diagnosed with oropharyngeal pharyngeal cell carcinoma February 2014 and treated with chemo radiotherapy.
He remained under review and by January 2015 he was reporting to his ENT Consultant a lump returning in his neck in exactly the same position as the previous cancer.  He had further x-rays and scans but was advised that this was a result of the radiotherapy treatment and told there was nothing to worry about.  Mr Haley became increasing worried as the lump got bigger.  It began to cause him more obstruction and pain : his GP was concerned.
He sought private advice and was very concerned that the cancer had returned. Then in December 2015 it was confirmed the cancer has indeed returned.   Unfortunately by this stage Northampton General Hospital had advised he was beyond treatment and cure and all he could have was palliative care.  He sought private advice and was put on a drug trial and did remarkably well outliving his life expectancy.  He also had to undergo extensive neck surgery and lost a lot of muscles around his next and shoulder.  He was also unable to eat or drink properly as a result.
We obtained evidence from Professor Homer ENT Surgeon who was supportive, a Consultant Radiologist Dr Offiah and also Professor Price, Consultant Oncologist, with regard to causation and life expectancy.
In short, the Defendant admitted the two breaches in April and November 2015, but denied causation. Our argument centred on the events of  13th February 2015 because if diagnosed at this point it would have meant he could have had treatment and on the balance of probability he would have been cured.
We agreed to mediate with the other side and we had Brian Dawson mediator from Trust Mediation. This took place on 16th March 2021 and the case settled on that day for £250,000 inclusive of CRU.  The Defendant in this case had made an early derisory offer of £5,000 plus CRU on 14th January 2019.
Going to Mediation meant we could reach settlement without protracted court proceedings which was important for the client as he had a shortened life expectancy.
Inpatient suffered an avoidable fall whilst under hospital care
Mrs R, was an inpatient in hospital where she suffered a fall and subsequently fractured her hip. She underwent surgery and thereafter, was admitted to a care home as she was unable to return to her home.
The hospital admitted liability and conducted a root cause analysis investigation into the fall and determined that the fall was found to be avoidable.
It was noted that Mrs R had been admitted with a history of falls, but nursing risk assessment documentation was not fully completed. This meant her risk of further falls was not clearly identified and they failed to implement a falls prevention plan commensurate with her risk.
It notes, for example, she was not nursed in one of the high observation bays when she ought to have been. Had she been in a high observation bay, it would have been highly likely a staff member would have seen her get out of bed and been able to attend to assist.
We instructed an expert in the field of Ortho-Geriatics to comment on our Mrs R's condition and prognosis. Our expert confirmed that as a result of the fall and fracture, her life expectancy was shortened by 2-3 years and her admission into a care home was increased by 1 year.
Unfortunately, she passed a few weeks after this, and we were then instructed by her executors, who pursued the claim on behalf of her Estate.
The case settled for £30,000.
We hope this will help the family move on from this ordeal.
DS (deceased) v Kettering General Hospital NHS Foundation Trust
DS, prior to the alleged negligence was generally in good health. In December 2015, he began to complain of rectal bleeding. Blood tests showed DS had low levels of haemoglobin and a 2 week wait referral Outpatient Consultant was made for a Haematology opinion.
On 21 December 2015, DS underwent a CT colonogram and upper GI endoscopy, the reports of which were confirmed as normal. Nothing further was done.
DS began to feel unwell over the following 2 years and in September 2017, his GP made a referral for a GI opinion under the 2 week wait referral with a history of lower abdominal pain and weight loss. The results of a CT scan reported a tumour and it was noted that this could be viewed on the 2015 scan and had been missed due to human error.
DS was advised he would need to undergo treatment however he suffered from an intestinal obstruction and as a result, underwent a right hemicolectomy. DS' chemotherapy was therefore deferred due to this surgery.
DS underwent chemotherapy however due to disease progression, DS deteriorated and sadly passed away on 4 October 2018.
Further research into the Trust evidenced that in 2015, there were difficulties with reporting on imaging as a result of backlogs and for that reason, a press release and article in the Northamptonshire Telegraph was published and set out the story of DS. It appears a number of patients have suffered from similar circumstances.
DS' executor bought this claim on his behalf and it was successfully concluded by way of a 5 figure settlement.
Failure To Properly Assess The Deceased Results in A Fall In Hospital
The Claimant in this clinical negligence claim brought an action against Kettering General Hospital NHS Foundation Trust in respect of the deceased suffering from a fall whilst an inpatient in hospital, in February 2018.
The Deceased was admitted to Kettering General Hospital on a number of occasions as a result of transient ischaemic attacks and a history of falls.
In February 2018, the deceased was re-admitted to Kettering General Hospital following a fall at home. The deceased was diagnosed with chest sepsis and was commenced on intravenous antibiotics to assist. The deceased's general health was not good and he began to suffer from confusion whilst he was an inpatient. He was also moved from a high observational bed to a bay in order to create capacity for another patient.
A few days later, whilst an inpatient, the deceased was found on the floor following an unwitnessed fall. Examinations and investigations were performed which showed the deceased suffered a hip fracture as a result of the fall. Investigations revealed no Falls Risk Assessment was carried out prior to the fall despite a history of falls prior to admission. There was also no Care Plan, lying and standing blood pressure had not been recorded and a bed rails assessment had not been carried out prior to the fall in hospital. The fall was recorded as "avoidable" by the lead nurse.
Due to the deceased's other comorbidities, he was not a candidate for surgery and his fracture was to be managed conservatively. The deceased remained an inpatient and contracted MRSA.
Unfortunately the deceased's condition deteriorated further whilst he remained an inpatient. His general health declined. He unfortunately passed away on 24 March 2018.
Wilson Browne Solicitors alleged that had appropriate assessments had been performed; the deceased would have avoided the fall and hip fracture.
Kettering General Hospital admitted they were negligent in their care resulting in the deceased suffering from a fall and apologised to the Claimant and the family.
The claim settled in favour of the Claimant for a five figure settlement.
Negligence In Diagnostic Laparoscopy Results In A Perforated Bowel
The Claimant in this clinical negligence claim brought an action against Kettering General Hospital NHS Foundation Trust in respect of a diagnostic laparoscopy she underwent in November 2017.
The Claimant, who had complaints of abdominal pain and an ovarian cyst was advised to under a diagnostic laparoscopy in November 2017. The Claimant was advised that the surgery was successful however post operatively, the Claimant felt extremely unwell. Nonetheless, she was still discharged without any investigations for her pain.
Over the next few days, following discharge, the Claimant began to feel extremely unwell and returned to the Accident & Emergency Department at Kettering General Hospital. Examinations were performed and a CT scan confirmed the Claimant had a perforated bowel from the Veress needle that was used in the diagnostic laparoscopy a few days prior.
The Claimant underwent a further laparotomy and bowel resection to repair the perforation. A nasogastric tube and wound drain was inserted. The Claimant remained an inpatient in hospital and suffered from sepsis.
Approximately one week later, whilst still an inpatient, the Claimant began to feel unwell again. Examinations showed that she had a burst abdomen and her sutures had torn. The Claimant underwent a further procedure, a laparotomy and washout and reclosure of abdominal wound.
The Claimant was discharged a few days later and required district nurse care. She was unable to return to employment for 5 months.
Wilson Browne Solicitors obtained expert evidence which assisted in proving that the Veress needle was inserted too many times during the diagnostic laparoscopy and there was a failure in undertaking mandatory inspection post operatively which would have identified the perforation at the time of surgery. If this was completed, the Claimant would have avoided the readmission to hospital and further surgeries. As a result of the negligence, the Claimant was set back in her career progression.
Kettering General Hospital admitted that inspection should have taken place at the time of the diagnostic laparoscopy, and if it was, this would have identified the bowel perforation at the time, which could have been repaired. Kettering General Hospital agreed that the Claimant would have avoided the readmission to hospital and further surgeries.
The claim settled in favour of the Claimant for a five figure settlement.
Early Discharge In Orthopaedic Treatment Causes 15 Year Old To Suffer Leg Deformity
The Claimant in this clinical negligence claim brought an action against NGH for discharging him too early from an orthopaedic follow up clinic.
The Claimant, aged 15, suffered an injury to his knee playing football in January 2013. He attended Accident and Emergency, unable to weight bear and the right knee was swollen. He was diagnosed with haemarthrosis and it was confirmed with an x-ray that he had not suffered a fracture. The Claimant was followed up in the fracture clinic at Northampton General Hospital. His pain and swelling persisted and an MRI as arranged in February 2013. The MRI confirmed the Claimant has in fact suffered from an undisplaced fracture of the lateral condyle involving the growth plate.
The fracture was on its way to healing and so the Claimant was referred for physiotherapy to strengthen the knee and would be followed up with another MRI scan in three months.
In June 2013 the repeat MRI scan confirmed the fracture was healing well and the Claimant was discharged.
In February 2014 the Claimant began to experience pain in his knee again and attended his GP. The Claimant was referred for physiotherapy in June 2014. He was not seen until October 2014 when he was referred on to an orthopaedic consultant at Northampton General Hospital. By this time the Claimant's affected leg had developed a deformity and was now 1.5cm shorter than the unaffected leg.
A CT scan in February 2015 confirmed that a localised tether on the lateral side of the growth plate had caused the Claimant's asymmetric growth.
In September 2015 the Claimant underwent an operation to correct the deformity and his leg following which he developed a leg length discrepancy of 5cm and eventually underwent further surgery to correct this.
The Claimant was successful in alleging that he should not have been discharged from his follow ups in June 2013. Wilson Browne Solicitors obtained expert evidence that suggested this type of deformity is known to be a risk and therefore the Claimant should have been monitored more closely. If he had remained under follow up appointments, the claimant leg deformity would have been recognised 1 year earlier. The Claimant also argued that because of the delay, the surgeries now interfered with his GCSE year and adversely affected his education.
Northampton General Hospital admitted that the Claimant should not have been discharged in 2013 and the claim settled in favour of the Claimant for £20,000.
Young Boy, Only 3 Years Old, Suffers Cardiac Arrest And Dies Due To Hospital Failures
The expert team of Clinical Negligence lawyers at Wilson Browne Solicitors were asked to act for the parents of a little boy who had Downs Syndrome – he was only 3 years old.
The boy fell ill in November 2015 and was taken to his GP who advised he should take fluids and alternate doses of paracetamol and Ibuprofen.
When his condition failed to improve after several days he was taken to A&E at Leicester Royal Infirmary, with a high temperature.
He was very lethargic and had had 6 episodes of diarrhoea coupled with persistent tachycardia (a high heartbeat of 100 bpm or over) and was dehydrated.
Although bloods were sent for analysis no one checked them and neither did they measure his output of fluid.
It was planned for him to be moved to the children's assessment unit but there was a delay in moving him. Eventually when the doctor chased the blood test results abnormalities were indicative of infection and the working diagnosis was sepsis, tonsillitis and possible viral illness. Antibiotics were prescribed but not given until 1 hour later and sadly the boy continued to deteriorate and suffered a cardiac arrest from which he passed away.
There was an inquest into his death and an expert Consultant Paediatric Intensivist gave evidence that he had died as a result of unrecognised and untreated sepsis.
In brief:
• The Hospital failed to give antibiotics on admission or within 1 to 2 hours.
• There were failures to monitor his fluid balance and blood pressure
• There was poor communication between those treating him.
If he had received an acceptable standard of care it is more likely than not that the cardiac arrest would not have occurred, and with treatment he would have survived.
Following the inquest the parents pursued a negligence claim against the Hospital Trust.
A claim was brought on behalf of their son and they also brought claims for themselves for psychiatric injury they had sustained as a result of being secondary victims to witnessing their son's cardiac arrest.
An out of court settlement prior to commencement of court proceedings was reached for the global sum of £95,000. Nothing can however make up for the loss of a child and as is often the case, claims such as these are pursued in order to get answers – answers regarding what went wrong and why; and how do we stop it happening again.
Mother Loses New Born Baby Due To KGH Errors
This was Miss S's first pregnancy and she progressed without any problems until early December 2015 when she went into labour and was admitted to Kettering General Hospital where her baby was born – there were no initial concerns.
The following day however her baby was noted to be a dusky colour and grunting and the decision was made to transfer the baby to the special care baby unit.
Then, he became increasingly unwell and transferred to another hospital. It was discovered that he had sustained a significant neurological injury and sadly he passed away.
There was an investigation by the Hospital Trust which concluded that the baby's death had been avoidable and the Hospital had failed to consider the risk of neonatal sepsis given that Miss S's waters had broken 26 hours prior to delivery and the prematurity of the baby at 35 weeks meant a septic screen at birth should have been performed.
Had a septic screen been performed further investigations and treatment could have been started in order to save the baby.
Supporting medical evidence was obtained and a Letter of Claim sent to the Hospital following which the Hospital accepted breach of duty and causation and a negotiated settlement was reached which included a psychological injury on behalf of Miss S.
The case settled for £40,000 – a small sum in relation to the distress and trauma, but as always, cases like this are more about finding answers and ensuring that wherever possible, lessons are learned.
Missed Fracture On X-ray Led To Untimely Death 3 Months Later
Mr P suffered a fall at home and attended A&E at Kettering General Hospital.  He was in considerable pain and a CT scan was performed which reported no fractures and he was discharged home.   That evening he experienced further pain down his arms and legs and was returned to hospital by ambulance the following day.  The CT scan was reviewed and he was advised that fractures to his fourth and fifth vertebrae had been missed and he was therefore urgently transferred to Coventry Hospital for surgery.
At the time Mr P was 82 years of age and sadly he passed away 3 months later.
Mr P's family were desperate to find out what had happened to him and why and so they instructed us to investigate a potential claim against the Hospital Trust.  This required full disclosure of his medical records and radiology.  It was clear when we reviewed the records that the fracture to his back was visible on the original CT scan.  Mr P therefore should not have been discharged as this led to him suffering with paralysis, chest infection and subsequent death.
The Hospital Trust admitted fault and paid compensation to Mr P's widow. The total sum recovered was £33,000.
£14,500 Settlement For Delay In Surgical Treatment Of Child's Appendicitis
As one of the largest Medical Negligence teams in the East Midlands, the team acted on behalf of a minor who on was referred to A&E by his GP who thought that he was suffering with appendicitis. The surgical registrar at A&E agreed with that diagnosis and transferred the patient to another hospital to have an appendicectomy. On arrival, he was instead diagnosed with a gastric infection (gastroenteritis) and was given antibiotics.
The patient was then reviewed by the paediatric service who thought he was suffering from either appendicitis, colitis or a collection, so requested an urgent ultrasound. He was later signed off by the surgical team as not needing surgical intervention.
His condition then deteriorated, and it was not until he was reassessed by the surgical team three days later that the decision was made to take him for the appendicectomy, and they realised he had a perforated appendix, along with other internal injuries.
The team were able to achieve damages for the client of £14,500 for the hospital's delay in surgical treatment of the appendicitis and the suffering it caused to the minor, among other failings.
Child's Serious Complications Post-appendicectomy Results In £35,000 Damages Awarded
Wilson Browne Solicitors acted for another minor who suffered from serious complications post-appendicectomy from the date of discharge until a second corrective surgery took place on 15 days later. These complications meant that the wound was discharging effluent fluid and the patient ultimately had to undergo further procedures and treatment until she was finally discharged after a further 18 days.
Whilst it was disputed by the hospital whether or not the complications were as a result of substandard medical practice – the team were able to achieve damages in the sum of £35,000 for the client.
£1m Settlement For Negligent Medical Treatment During Birth
Wilson Browne Solicitors represented a child who received £1,025,000 from hospital after suffering dyskinetic quadriplegic cerebral palsy because of medical negligence at the time of his birth December 1991 at Kettering General Hospital.
It was alleged there was a delay of 30 minutes in delivering the child because he was not being properly monitored. He was starved of oxygen and suffered a brain injury to a specific part of the brain, the basal ganglia, which has resulted in him suffering involuntary movements.
Working with medico-legal experts from a range of disciplines; Obstetrics, Gynaecology, Midwifery, Paediatric Neurology, Neuroradiology, Care Experts, Educational Psychology and a joint Physiotherapy and Speech and Language therapist, the Wilson Browne team identified that it was the prolonged lack of oxygen that caused damage to his brain.
His parents did not contact the team until he was at school but this still was within the timeframe allowed for a medical negligence case. The child was by this time a very bright young man and doing well academically, however there was an unusual aspect to the case that he was only mildly affected (in the cerebral palsy scale) and so likely to do well in higher education and find employment. He would however need assistance to enable him to achieve his full potential.
The then East Midlands Strategic Health Authority initially denied liability, refusing to accept that staff at Kettering General Hospital had made any errors during delivery, however, shortly before the trial they accepted 80% liability for his injuries and the team was able to secure a settlement of £1,025,000. The team ensured that his compensation was protected in a Personal Injury Trust, not affecting his entitlement to benefits. The compensation will go towards providing the boy with equipment, such as an adapted car, and the additional personal care he would require throughout his life.
£7.2m Settlement For Boy Born With Cerebral Palsy At Kettering General Hospital NHS Foundation Trust
In 2004 Baby H's parents instructed Louise Tyler to act in a claim for compensation for injuries suffered during the birth of their second Child.
It was alleged that delivery of Baby H was delayed causing him to suffer asphyxia brain injury and cerebral palsy. The child's mother had previously had a caesarean section with her last child but was told she could still have a natural labour. A few weeks before the baby was due the mother experienced abdominal pains. She did go to the hospital and was discharged with no change to her birth plan.
When the mother went into labour there were obvious decelerations of the baby's heartbeat, a clear sign that a baby is in distress. At 1.30am it was decided that the mother needed an emergency caesarean section but she was not taken to theatre until 1.58am. The baby was delivered at 2.00am. Baby H was in very poor condition, his heart had stopped beating and he had to be resuscitated.
The team alleged that the delayed delivery of Baby B caused him to suffer asphyxia brain injury and cerebral palsy.
Louise Tyler investigated the claim with help from experts in obstetrics, paediatrics and neuroradiology. The experts agreed that there were early warning signs that the baby was in difficulty and should he have been delivered sooner then he would not have suffered the brain injury or developed cerebral palsy.
Kettering General Hospital didn't make any admissions and therefore court proceedings were issued.
Eventually, after sharing both sides expert evidence, Kettering General Hospital initially accepted 75% liability. The experience team argued that this should be more and successfully increased the liability to 90% which was considered an excellent result.
Utilising further expert evidence from experts in accommodation, care, aids and equipment, speech and language therapy, physiotherapy and neuropsychology, and after much negotiation, the team secured a lump sum payment of £1.79 million and annual payments for the rest of the child's life . The total claim was estimated to amount to £7.2 million
The parents of the child were delighted with the outcome. The compensation allowed them to purchase a new fully adapted home and employ carers round the clock.
Six figure settlement in misdiagnosis of Deep Vein Thrombosis in local GP practice
In June 2011 Mrs Doe noticed that her eczema on her left calf had become red and sore. She made an appointment at her local doctors surgery. The GP thought it was infected and prescribed her antibiotics and gave her some dressings.
Three weeks later Mrs Doe returned to the surgery and was seen by a practice nurse. The nurse redressed her leg but told Mrs Doe to see the GP again because she thought she might have a deep vein thrombosis (DVT), a blood clot in one of the major veins in her leg.
Mrs Doe saw her GP the next day. He documented that she did not have DVT. Five days later Mrs Doe became very short of breath and sadly died very suddenly.
A post mortem was carried out to find the cause of her death and showed there was a blood clot in her leg and that part of it had broken off and travelled to her lungs causing a Pulmonary Embolism. Essentially this caused her death, she was unable to breathe.
The team initiated proceedings against the GP to prove that he had not carried out a thorough examination of her leg when she returned for the second time. Expert evidence was exchanged and it was proven that if the GP had examined the leg properly, he would have realized that she probably did have a DVT and immediately referred her to the hospital where she would have received life saving treatment.
Mrs Doe's family received £32,000 in compensation.
Louise Tyler commented "the failures on the part of the GP seemed clear in this case and we are pleased that we were able to resolve the matter, getting justice for this lady and her family".
£20,000 secured due to clinical negligence resulting in a fall at hospital
Back in October 2014 Mrs R fell at home and was admitted to Kettering General Hospital. The hospital recognised that Mrs R was at high risk of falling again and because of this she should have been accompanied by a member of staff at all times when mobilising to the toilet. However, Mrs R was left alone to take herself to the toilet which resulted in her falling and sustaining fractures to her right hip and knee.
Surgery was required to fix the fractures and Mrs R was unable to return to her own home. Her need for residential care was accelerated by between 6 and 9 months as a result of her injuries.
Sadly Mrs R died part way through proceedings. Her daughters claim for clinical negligence had by this time already begun. The Medical Negligence team at Wilson Browne Solicitors secured expert evidence in nursing care and allegations were put to the Defendant in a letter of claim. The Defendant denied liability and therefore Counsel was instructed and proceedings were issued in April 2019. Following issuing proceedings the Defendant made an offer to settle the claim.
The team delivered strong negotiation with the Defendant and as a result secured an increased settlement of £20,000, which was considered a good result for the estate of Mrs R.
Closure for family after the tragic stillbirth of baby Alfie at Kettering General Hospital
Lisa Bell instructed Wilson Browne Solicitors to claim damages from Kettering General Hospital NHS Trust for the stillbirth of her baby Alfie. Her due date was 28 March 2015. On 27 March 2015, Lisa contacted the maternity unit at KGH with a history of a show of yellow mucus and period type pain every 30 minutes to an hour and was experiencing relatively limited foetal movements as her placenta was in an unusual position, blocking the amount of movement that she could feel. She was advised to take a bath and paracetamol and call back if contracting regularly.
The following day on 28 March 2015, she again called the maternity unit complaining of nausea, dizziness and feeling hot and informed the midwife that she was concerned about reduced foetal movements that day. The midwife recorded "FM√" apparently recording good foetal movement despite what Lisa said. She was advised to put her head between her legs to help the dizziness and to call back if she had signs of contraction.
On 31 March at 40 weeks, 3 days gestation, she again contacted the maternity unit with a show and headache which had not subsided despite taking paracetamol. She again reported reduced foetal movements and was advised to come into the hospital for induction of labour. She was induced, but CTG showed no foetal heart rate and her baby was still born.
Wilson Browne Solicitor's Medical Negligence team obtained expert evidence from both midwifery and obstetrics who said that as Lisa reported reduced foetal movements on 28 March 2015, she should have been asked to attend the maternity ward; and that had she done so, a CTG trace would have been performed which would have shown Alfie was in distress and an emergency C-section would have been performed. It is likely that Alfie would have been born alive if this was carried out. The midwife to whom Lisa is understood to have reported reduced foetal movements on 28 March 2015, was dismissed by the trust in November 2015, and struck off from Nursing and Midwifery Council for reasons unrelated to this case.
Sadly, claims relating to still births don't get large sums in compensation due to how the law compensates people for injuries. The defendant denied any wrong doing but strategic negotiations managed to secure a settlement of £15,000 for Lisa without the need to issue court proceedings.
Substantial compensation secured arising from a 9 month delayed diagnosis of bowel cancer
Substantial compensation has been won in claims for medical negligence arising from the delayed diagnosis of Mrs T's bowel cancer.
The team were instructed by Mrs T's husband to pursue a claim for damages in relation to his late wife's treatment at Kettering General Hospital. The deceased was referred to the Defendant's hospital in December 2014 with a history of anaemia. Gastroenterology planned for her to have a gastroscopy and then, dependant on results, a further colonoscopy. However, the referral letter for a gastroscopy was filed within her notes and never received by the relevant department. Mrs T's GP chased the procedure in July 2015 and the gastroscopy was performed on 14 September 2015. Results of the gastroscopy mandated that she needed further investigation with a colonoscopy, however, this was not requested.
On 20 October 2015 Mrs T was admitted to the Defendant's hospital unwell and short of breath on exertion. A CT scan performed on admission revealed that she had extensive metastatic bowel cancer, affecting the liver and lungs. She died on 3 November 2015.
The Defendant had conducted their own serious incident investigation which highlighted a number of system failings; our experienced medical negligence team prepared a Letter of Claim based on the findings of the SI report whilst obtaining expert evidence in relation to causation.
The Defendant's Letter of Response admitted breach of duty but denied that earlier intervention would have prevented her cancer spreading. The Defendant stated only that earlier intervention would have resulted in palliative treatment being offered and prolonged survival by 'several months'.
Our own expert evidence suggested the deceased would have survived for approximately 3 years if she had been treated without the delay. Three years that would have been incredibly important to her husband and family. We were able to obtain evidence that showed the deceased could have returned to work for a time following palliative treatment.
Wilson Browne's medical negligence team secured £44,500 for the family and estate of Mrs T.
Substantial figure secured for delayed diagnosis of severe facial fractures
The medical negligence team acted a Claimant who suffered a delayed diagnosis of several facial fractures. As a result the Claimant required extensive surgery to fit metal plates and further operations to repair his eye lid which did not close fully. The Claimants appearance was also affected.
The Claimant attended A&E at Leicester Royal Infirmary following an assault. He had been beaten over the head and kicked in the face. On attending A&E at the Defendants hospital he was briefly examined but no x-rays were taken. Facial cuts were glued together and he was discharged. Over the following 6 weeks the Claimant noticed his face dropping on one side. He returned to his GP who requested an x-ray and CT scan. The scans confirmed that he had suffered fractures to the right zygoma and right orbital floor; the cheekbone bone under the eye. The Claimant was left with double vision and numbness in his cheek as well as the distorted facial appearance.
Because of the delay, the fractures had begun to heal in the wrong place and the Claimant required major surgery to fix it.
The team were instructed to pursue a claim for damages as a result of the delay. Following investigation of the claimant's medical records and the police records of the incident, an expert in emergency medicine was instructed to report on the failures in A&E. Following a detailed letter notifying the defendant of the claim, they admitted liability in full.
The Defendant accepted that if an x-ray had been performed the Claimant would have been referred to maxillofacial on the day of attendance at A&E and would have undergone open reduction and fixation of the displaced fractured right zygoma +/- right orbital floor repair. On the balance of probabilities, he would have avoided the need for further surgery on his would not have suffered from numbness in his cheek and double vision.
This was a complex claim needing expert evidence from four different specialist doctors.  The Claimant was self employed and alleged that his business had lost income as a result of the numerous hospital appointments and time off work required.
The defendant paid the claimant £75,000 in damages.
"Mandy" - Unnecessary Surgery In Relation To Fertility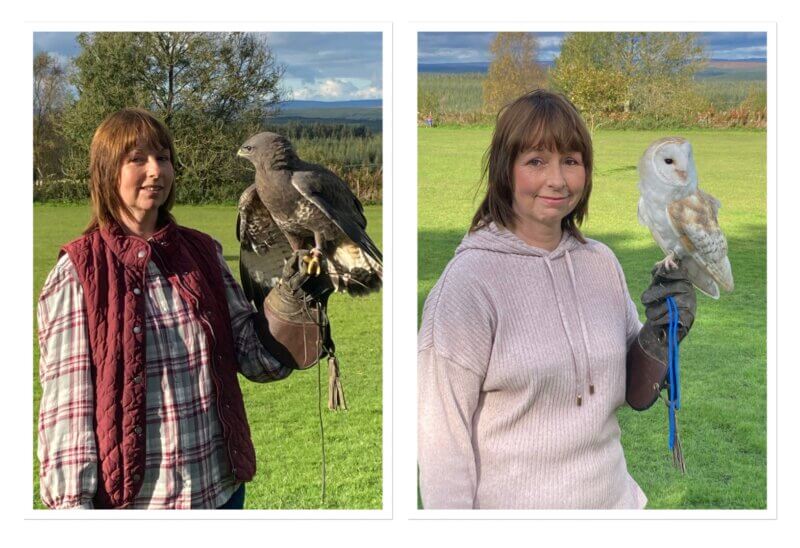 Mandy runs a successful business in Northumberland which cares for and displays bird of prey, called Falconry Days.
It may seem a long way from our Clinical Negligence team in Northampton, but Mandy explains why she choose our team to help.
Mandy underwent surgery as part of her fertility treatment – surgery that was later discovered to have been unnecessary.
Listen to her story here:
Professional and friendly people. My first contact with Wilson Browne was with Louise Tyler and would like to thank her for the part she played…Marianne Stapleton took over the claim and I will be forever grateful to her for her guidance and advice throughout.  It was like having a friend assist…that to me was priceless…and I am so thankful to Marianne for all her hard work and what she achieved for me.