What is your biggest concern regarding your existing Commercial Property Lease?
Reasons to choose Wilson Browne
In his latest LinkedIn poll, Commercial Property Partner Tom Warrender asked:-
"Whether Landlord or Tenant, what is your biggest concern regarding your existing commercial property lease?
1. Paying rent (tenant) / collecting rent (landlord)
2. What happens at the end of the term, be that renewals or vacating or dilapidations etc.
3. Exercising a break clause (if any)
4. Other (comment below)"
The Legal 500 recognised Commercial Property and Commercial Litigation Teams here at Wilson Browne Solicitors work closely together, acting for both Landlords and Tenants, advising on these very issues (and much more!). Whether you are a Landlord or Tenant, have one property or a portfolio, our teams are #allthehelpyouneed.
The results revealed that 62% wanted advice on payment of rent, 31% wanted advice on what happens at the end of the term, and the remainder wanted advice on break clauses.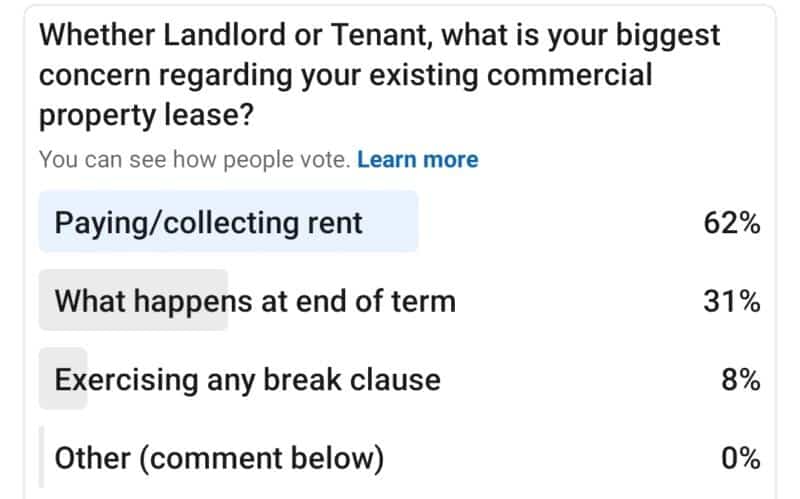 Payment of Rent
It has been a difficult time for Landlords and Tenants due to the recent Coronavirus Pandemic. Landlords cannot currently "forfeit" the Lease for non-payment of rent.
There is currently a moratorium in place to prevent Landlords of commercial properties from being able to evict Tenants for not paying rent. This measure will be in place until the 25th March 2022.
The moratorium makes it more difficult for Landlords to take steps to recover commercial rent owing from Tenants but it is still possible for Landlords to issue Court proceedings to recover outstanding debt.
If the rent accumulated before March 2020 you will be able to take steps to recover the debt.
At the end of the lease
Depending on whether a Lease is "contracted out" i.e. whether it has statutory security of tenure under the Landlord and Tenant Act 1954, will impact what happens at the end of the lease. This guide on Landlord's rights when a Tenant remains in occupation at the end of a lease  – gives some further information on this very point.
Dilapidations is another point of consideration for parties at the end of the lease term. Our guide on what are dilapidations at the end of a lease  – provides a useful overview on dilapidations.
Break Clauses
Whether you are a landlord or tenant entering into a commercial property lease, it is imperative that you take legal advice. Specifically, with the issue of break clauses, it is important to know the dates that they can be exercised (whether they are fixed or rolling break dates), whether it is both parties or just one party that can exercise the break, the notice period that needs to be given, and any other requirements that need to be complied with.
Even after the lease is completed and in place, it is equally important that you fully understand the mechanisms for exercising the break and the dates by which you need to serve notices etc.
The article on break clauses in commercial leases –  – gives more information.
Our Legal 500 recognised commercial property and commercial litigation teams here at Wilson Browne Solicitors have a wealth of experience acting for both landlords and tenants in commercial property lease matters.
Whether you are in the process of agreeing on a new lease, or simply want a refresher on your existing lease then our team are All The Help Need You Need.