News From The Family Justice Young Person Board, "Voice of the Child" Conference
Reasons to choose Wilson Browne
Today, our head of team, Helen Russell, attended The Family Justice Young Person Board, "Voice of the Child" conference which focused on the child being heard in the justice system.
All of the solicitors in our care team are members of the Law Society children panel. That means that they are all able to represent children during care proceedings. The solicitors do this by working with the child's court appointed guardian – a social work professional who works independently from the local authority and provides the court with the voice of the chid and will give recommendations regarding the child's safety and best interest with the individual child at the forefront of their thinking. The solicitor that they instruct to act for the child has a very important role in making sure the court and other parties listen to what the child is saying and try to make sure the child is and remains the centre of the proceedings and the focus of everyone's decisions.
The event today was presented by children who have been involved in the family court system. The FJYPB itself gives children a voice and an opportunity to support other children going through the justice system. The FJYPB also gives children a way to speak to practitioners and professional who work with them and tell us what we do well and more importantly, what we can do better!!
Helen said:
What an honour to be a part of this amazing event! Representing children is a real honour and hearing from some of those children about what it is like to go through the family justice system, what is working and more importantly what is not and how professionals can do better.

As adults and busy professionals, it can sometimes be easy to forget what children and young adults may feel or need. They may well feel that their voice is not being heard or feel scared and at a loss as to what is happening. Often children can feel that "court" is happening around them and yet they know that they should be at the centre of what is happening. Hearing from the amazing young people today was humbling and an emotional experience.

A series of challenges were set to practitioners that centred around UNCRC Article 12 and the right of every child to be listened to and taken seriously. Certainly, as professionals the Board want us to tell them about delays in proceedings, want to know their rights and want to understand how they can trust us. We are all busy, but what today showed me is that sometimes, setting aside other demanding tasks and taking time just to listen is priceless. As co-chair of the Northants Family Justice Board, I was delighted to welcome some members of the FJYPB to our recent training event and I do hope that they will come back to talk to local professionals next year – they would be very welcome, and we really want to hear the vital information that they are brave enough to share with us.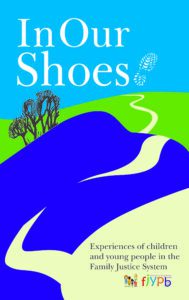 The Board has published a wonderful book , that is free to download. It is called "In My Shoes" and is a real insight into how children feel when going through the family justice process and worth a read for all professionals involved in the family justice system, individuals involved in family court cases and any interested parties…
DOWNLOAD YOUR FREE COPY HERE OR CLICK ON THE IMAGE
The care team are happy to receive instructions from parents, other parties to proceedings and children's guardians.
Please do just call our teas in Northampton and Leicester, and we will be happy to have an initial chat.
Whilst our teams are based in the two offices we have a national reach and are happy to discuss instructions in other areas.