What Is The Best Thing About Your Lawyer?
Partner, Tom Warrender, asked the question, "What is the best thing about your lawyer?" in his latest LinkedIn poll.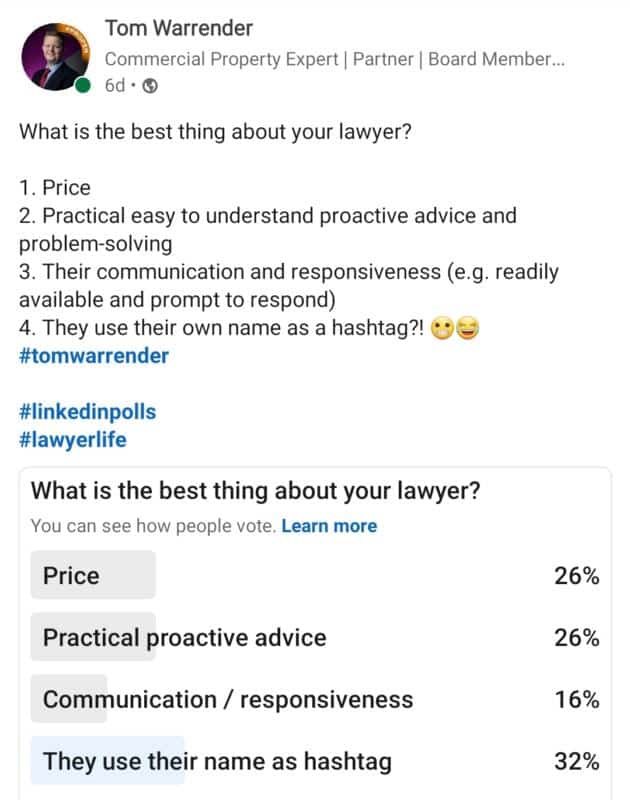 The results revealed that 26% said "price", 26% said "practical, easy to understand pro-active advice and problem solving", 16% voted for "communication and responsiveness" and the other 32% voted for ones with their own hashtag!
Here at Wilson Browne Solicitors, we are proud to say that we can offer all of those things listed above.  On the price front, each team will have an open discussion with potential clients at the outset of the matter to discuss clear and transparent pricing options.  For example, within our Commercial Property Team, we can offer a fixed fee or an hourly rate, we can even offer blended hourly rates whereby you would pay the same rate regardless of who worked on the file, and we are always open to discussing pricing options at the outset.
In terms of advice and communication, we pride ourselves on providing clear, plain English, easy to understand advice in a prompt and timely fashion.  We also believe in providing options and solutions rather than a list of problems!
Finally, when it comes to hashtags we are of course #allthehelpyouneed